02 Aug 2022
Journey – from Associate Software Engineer to Engineering Lead
"The journey of a thousand miles begins with one step"
–
Lao Tzu
In order to begin a journey and reach a destination, it is imperative that we take the first step. Despite the fact that the path might look tough or even infeasible, moving forward with our instinctive determination and passion, accepting all the challenges and problems along the way, may result in something so rewarding that we might never have expected. Some people may call it a 'miracle' but we call it 'hard work.'
A combination of passion and hard work is an essential characteristic that can bring out the best in any human being and can help achieve the milestone in your professional path. And here at o2h tech, we have a perfect example of it, and that is Akshay Soni, engineering lead at o2h tech.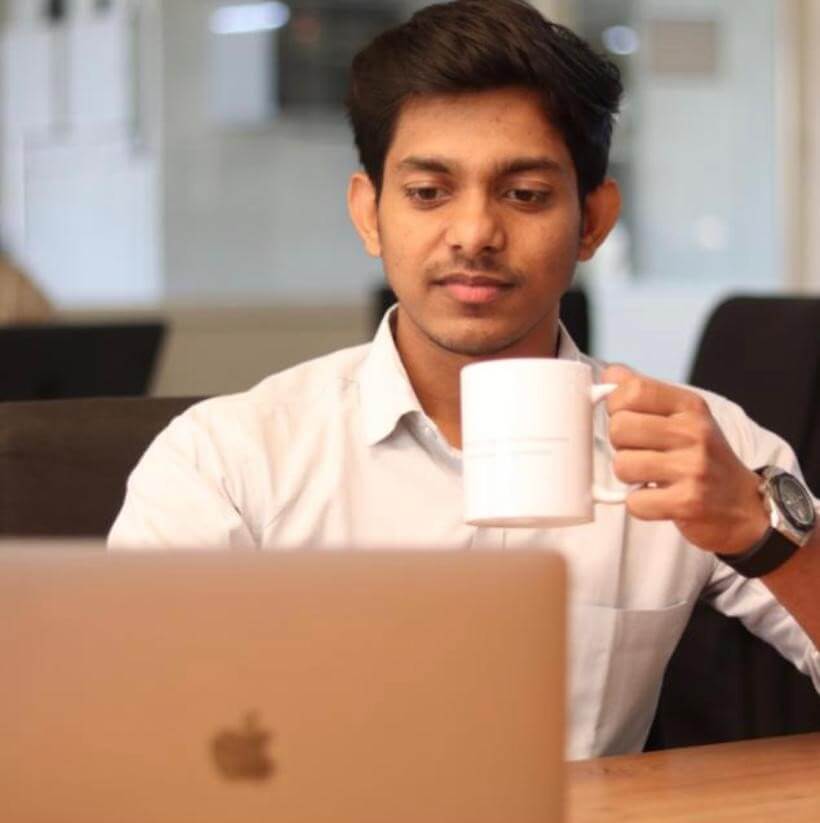 Akshay started his career with o2h technology as a Trainee Software Engineer back in 2017. Which means fresh out of college. A raw, young, but very enthusiastic candidate who had a passion for new-age technologies.
All along the way until now he set an inspirational benchmark for others with his dedication, hard work, and willingness to learn new things and understand different concepts as well as adapt them. A few years down the line, he is now the Engineering Lead at o2h tech.
Before joining o2h technology, Akshay helped quite a few startups with their technical operations. Having a vision of making people's day-to-day life easier and his love for building products using tech and coding, made him win multiple hackathons, awards, and coding competitions. 
"Starting as a fresher, o2h tech has played a major role in my growth to lead a technical team here. The nurturing culture, values, and their investment in people's development help employees to seed new ideas…"

-Akshay
Let's deep dive into Akshay's inspiring story with a quick Q&A session we had with him over our o2h tech masala chai time –
 So Akshay, tell us what inspired you to be an Engineer/Coder?
I knew from the beginning that an engineer has the capability to make an impactful and evolutionary change in society and when you see how your product/service is creating an impact on individuals' lives and making their lives better, that's another level of satisfaction. Optimising my skills to make better changes and converting the concept into reality with the help of technology inspired me to become an engineer.
How did you come across o2h tech? 
There is an interesting story behind this

. I wasn't preparing for the interview as I was working on an idea for my own small startup, and on the day of the interview, one of my friends called me and asked,

"why aren't you here for placement?"

I said,

"I am working on a project and I have a different skill set than what o2h is looking for"

. So he replied,

"o2h is hiring for all the tech stack, you should at least come and check…"

I thought for a second and said

"ah! ok, Let's give it a shot…"

  Then I went to the college, participated in the interview process and got placed from my college campus itself. Today, I am happy to say that o2h was the first and is the last company I interviewed for.
Would you like to share your learnings of the last 5 years working with o2h tech?
Well, there are a lot of things I learned in o2h over the last 5 years from a variety of people at different stages. o2h being a group of companies, you get to meet people from different domains,  expertise, and characters and it's great to see how all of them are aligned to a great holistic single vision that is:

seeding new ideas

.
When it comes to specific learnings, I would need to categorise and highlight three major ones –
A. Engineering expertise: I have learned so much in terms of building high-quality, scalable software. In my journey here, I have got a chance to work on products from different domains, ranging from healthcare to drug discovery, greentech, fintech, and so on… and that too at different levels which includes MVPs to full-fledged software products with live users that helped me to polish my engineering skills.
B. Teamwork: I believe that even if you are highly skilled or productive, you cannot do each and everything on your own. You always need a great team to work along with and help you to achieve a common goal. And in o2h, I have realised that everybody in the team is always ready to provide a helping hand whilst getting support and coaching from senior members. Teamwork is one of o2h's core values and we live by it. 

"If You want to Walk Fast, Walk alone. But if you want to walk far, walk together"

Mr. Ratan Tata
C. People & leadership skills:
I have got a chance to work with a different team on diversified projects where everyone had a different level of experience and expertise; and as a mentor, guide, and lead, it's always been so important for me to make sure that the team is aligned with the organisation's vision & contributing toward the same goal and at the same time they are also learning & growing. The o2h culture has also helped me in furnishing my leadership skills as I constantly got support from people here.
How would you describe your journey from Asso. software engineer to engineering Lead?
I must say I had quite an interesting journey. I started working as a Trainee Software Engineer to now lead a whole Engineering department, and came a long way with o2h in the last 5 years.
I still remember my first day at o2h on 29th May 2017, I joined a team of 3 people working on our flagship product Visibly. And now, o2h technology is a high-quality software development company working on both products and services with its customised products and special projects build capabilities.
I am glad that at a very early stage of my professional career here, I got an opportunity to work on almost exciting projects covering technology, life science, and green innovation. I was involved in every stage of software development starting from brainstorming with PO to delivering the project with the engineering Lead.
The biggest challenge you faced and how you cracked it?
In this journey, as we were a start-up, I faced quite a few challenges starting from being the only mobile developer in the team and learning mobile applications, solving live user queries at the same time to participating in different project management activities to deliver the project on time with high quality, but I believe that's the best part of working in a start-up as you wear different hats to play different roles to fill the gaps and deliver whatever is required.
If I have to highlight any specific challenging event, I would say our first collaborative project with UK entrepreneurs, with whom we were working on full-fledged software development. And, at that time, since we were a small team, I had to work as PM, SM, TL, and developer all at the same time in a single project. In that project, I have learned that, when you work with collaborators, you need to emphasize understanding their needs and requirements and put yourself in their shoes. You have to think from their perspective and understand the need of the hour, be it product launch deadlines or funding periods. Although I had to work crazy hours for a few weeks, in the end, we were able to deliver a satisfactory product to the collaborators. That's the best feeling in the world.
That one project you are proud of…
I would prefer the same project I mentioned above. If you think from a developer's perspective, it wasn't that complicated, but working with early-stage collaborators who are also trying and experimenting with different things to see what will work and what will not, was something interesting and challenging at the same time.
While you are very excited to work on different ideas and iterations but at the same time, you also need to consider the cost and timeline of the project and make sure that all the stakeholders are on the same page, which is something very crucial, but with our zeal and dedication, we have successfully launched the product with our collaborators. 
Though it was not as simple as it sounds; there was a lot of learning and sharing of ideas back and forth and I am happy to say that, together we built the product which will make a lot of positive impact in people's lives.
What do you enjoy most about working in o2h tech? 
I enjoy & admire the culture of o2h a lot where everyone is open to sharing their feedback as we believe individuals have their own unique voice and their opinions matter. Apart from that, the open culture or rather "no cabin" culture where everyone, be it interns or leaders, sit in the same working area/open space and everyone gets an equal chance to interact and learn stuff from each other. At o2h, we not only work together but also enjoy ourselves. Be it team day, cultural events, sports day, or a festive celebration, we enjoy and have a lot of fun together and that's one more perk of working with o2h tech.



Where do you see o2h tech in the future?

o2h tech's vision is to seed new ideas in life science, technology, and green innovation. We want to be the best ideas factory in the world.

We believe in working collaboratively to build something which creates a positive impact in the world and on the way we live. So, in the coming few years, I see o2h tech as an integrated tech partner/service provider to exciting startups & businesses around the world who are embarking on the journey of innovation in their fields using tech…


---
Thank you Akshay for your time and for sharing your thoughts with us. It was nice having a discussion with you. We are looking forward to more learnings and wish you all the very best for your future ahead.